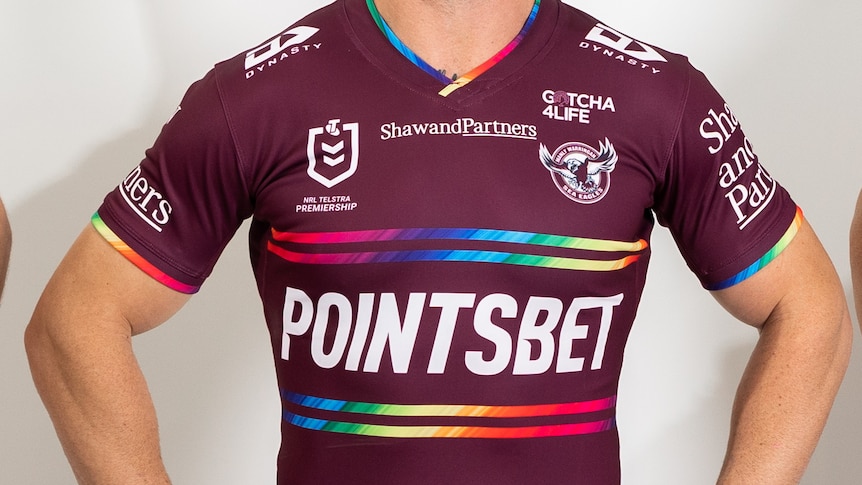 Manly Sea Eagles coach Des Hasler has apologised over the club's handling of the inclusion of rainbow colours on the club jersey, saying it was a "significant mistake".
Key points:
Seven players will boycott Thursday's game over the gay pride shirt
Hasler says the club's execution of the initiative was "poor"
Manly will face the Roosters on Thursday with a greatly disrupted side
Seven players are boycotting their NRL match on Thursday over their team's decision to wear a gay pride jersey. 
Hasler told a press conference he apologised profusely for not consulting with stakeholders or their players.
"In this specific instance, I feel from these players. Not included in any of the discussions, and at a minimum, they should have been consulted," Hasler said.
"The jersey intent was to support the advocacy and human rights pertaining to gender, race, culture, ability and LGBTQ movements.
"Sadly the execution of what was intended to be an extremely important ... initiative was poor."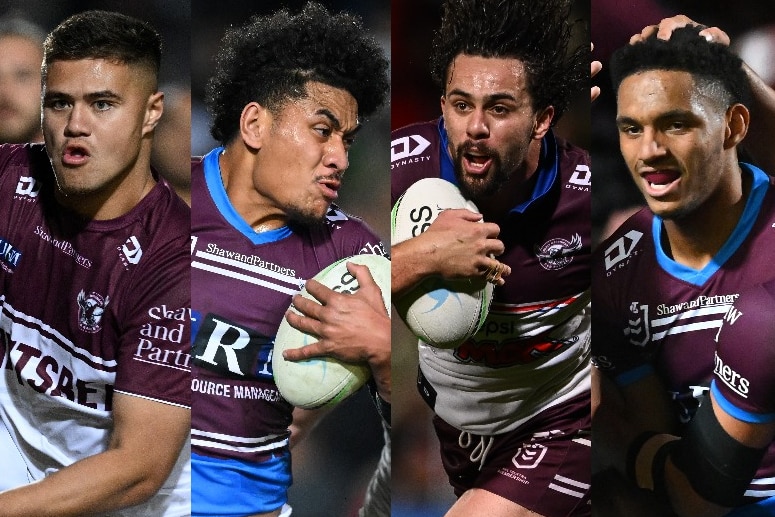 Hasler said the club would still wear the pride jersey in the match, which includes rainbow trimming in areas where white stripes usually are.
The players who will not wear the jerseys are Josh Aloiai, Toafofoa Sipley, Tolutau Koula, Christian Tuipulotu,  Haumole Olakau'atu, Jason Saab and Josh Schuster, who have refused to play due to their religious and personal beliefs. 
Hasler said that none of the coaching staff and players had prior knowledge of the jersey.
"They are not wearing the jersey as it conflicts with their cultural and religious beliefs," Hasler said.
"And I am concerned for their welfare. Their spirituality is a central part of their well-being. The club has made an error from which it will learn."
Skipper Daly Cherry-Evans said he was trying to find a "silver lining in all of this".
"There are going to be 17 players out there celebrating inclusiveness and diversity so I think hopefully we can start to shift our attention towards the good intentions that were had," he said.
It means ninth-placed Manly, who are fighting to keep their finals hopes on track against the Roosters, who are eighth, face the prospect of entering the critical Round 20 fixture with a wildly disrupted line-up.
There are six home-and-away rounds to play this season.
The Sea Eagles must name their team for Thursday night's clash by 4pm today.
The club's management team held an emergency meeting last night to take control of the fallout.
Prime Minister Anthony Albanese said he hoped the situation was "resolved".
"It's a good thing that sport is more inclusive," Mr Albanese said.
Mr Albanese said Ian Roberts, the first Manly legend and the first NRL player to come out openly as gay in 1995, showed courage.
"He wasn't the first gay man to play rugby, I'll give you the big tip, [but] he was the first to be able to have the courage to come out — and that paved the way for others to do so," he said.
"It's important in Australian society that we respect everyone for who they are."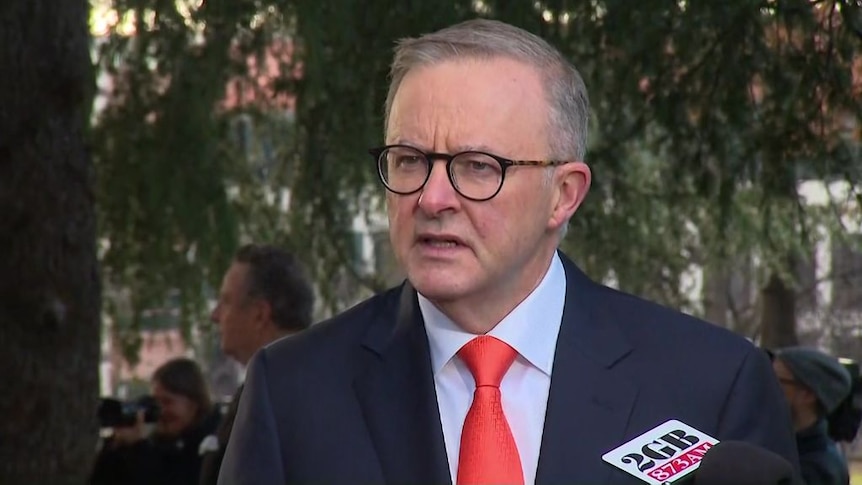 Writing about the matter on social media this morning, Federal Minister for Sport Anika Wells told her social media followers: "It's all the same love."
"Club uniforms are a matter for clubs but I think Macklemore said it best already — it's all the Same Love," she said referencing a popular song about gay pride. 
Australian Rugby League Commission chairman Peter V'Landys told Nine Radio players could act as they wished, but the NRL supported equality.
"We're all human beings at the end of the day," Mr V'Landys said.
"But at the same time you have to respect the players' religious and cultural beliefs. Those players are taking a stance and they have every right to."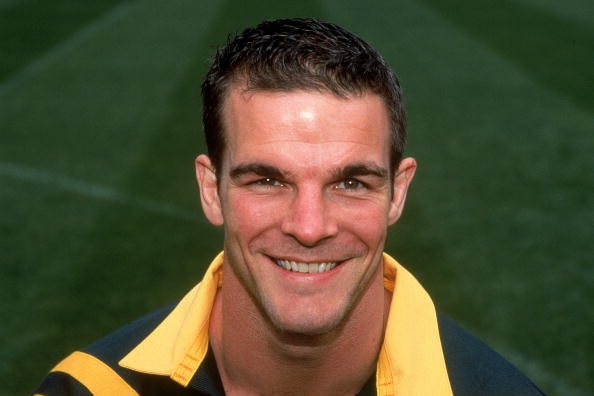 Mr V'Landys said the issue of gay rights should not be political.
"Recognising and respecting fellow human beings, I do not believe is political ... we will not change our stance," he said.
On Sunday, the club announced it would wear an LGBTQIA+ jersey for the Round 20 match against the Roosters at Brookvale.
A rainbow design replaces the usual strip's white hoops to celebrate "inclusiveness", with Kieran Foran, Reuben Garrick and Sean Keppie among those who launched the jersey on social media. 
But the decision has sparked unrest among players who were not consulted by the club.
Interim Sea Eagles CEO Gary Wolman said the club was proud to spread an important message.
"The Sea Eagles have such a rich and diverse history in rugby league and in the community,'' Wolman said.
"[It's] a fantastic achievement and we are pleased to be able to share such an important message that means so much to many people in the community."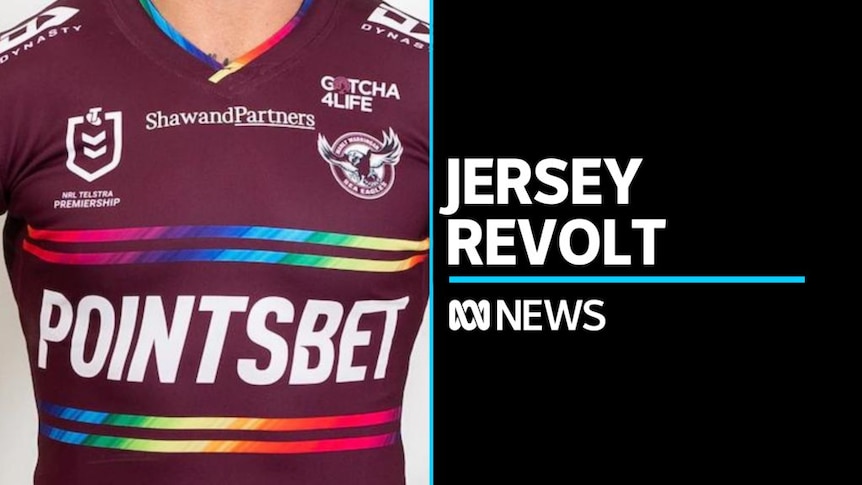 Roberts told The Daily Telegraph the decision by the seven players "breaks his heart". 
"It's sad and uncomfortable," he said.
"As an older gay man, this isn't unfamiliar. I did wonder whether there would be any religious push back.
"That's why I think the NRL have never had a pride round.
"I can promise you every young kid on the Northern Beaches who is dealing with their sexuality would have heard about this."