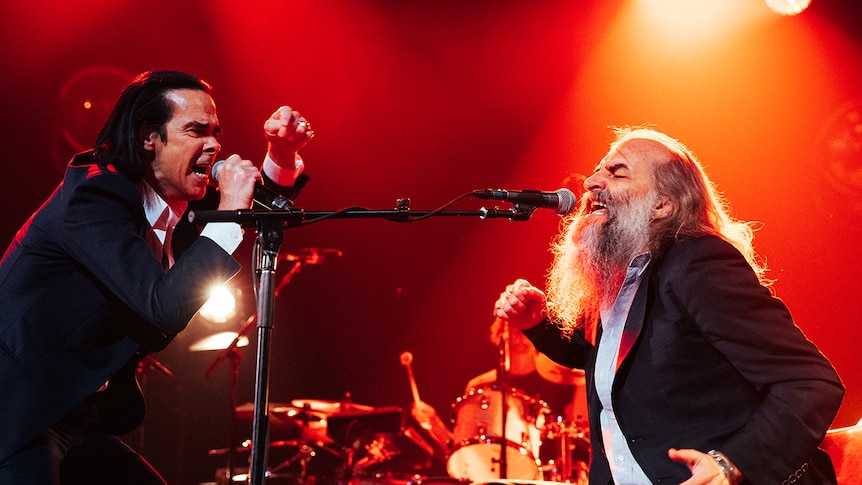 Two legends of Australian music lock in 15 dates for November and December
Nick Cave and Warren Ellis have made no secret of the fact they are touring their home country of Australia at the end of this year.
First, Cave couldn't help but share the news with fans via his excellent Red Hand Files newsletter earlier this year.
Then they announced two very special shows to take place at the iconic Hanging Rock outside of Melbourne.
Today the duo confirm dates for the rest of the tour, with the gents hitting theatres and arenas across many capital cities and a few regional areas this November and December.
The 15-date tour is the first extensive tour of the country Cave and Ellis have undertaken in this form.
They have, of course, travelled far and wide as a part of their day job with Nick Cave & the Bad Seeds, a group Ellis has been a part of for decades.
This, however, is the first chance people around the country will get to seeing songs from last year's debut collaborative album Carnage.
Warren Ellis on the 5 songs that most impacted his life
"I can't begin to tell you how happy Warren and I are to be finally returning to Australia to perform," Cave said in a statement released today.
"The wait has been way too long. See you all soon for the Carnage experience!"
While recent setlists from their European and American dates suggest we'll hear a lot of that album on their upcoming tour, the majority of the set appears to be Bad Seeds songs that Ellis has played an integral part in, which are many.
The tour kicks off in Adelaide and wraps up with two shows at the grand old Sydney Opera House, a place Cave and Ellis have been very comfortable playing in the past.
Catch Nick Cave and Warren Ellis playing the following shows through November and December.
Tickets are on sale from 10am local time, Friday 29 July.
Tuesday 22 November – Festival Theatre, Adelaide
Wednesday 23 November – Festival Theatre, Adelaide
Friday 25 November – Hanging Rock, Macedon Ranges (with Courtney Barnett) [SOLD OUT]
Saturday 26 November – Hanging Rock, Macedon Ranges (with Courtney Barnett) [SOLD OUT]
Monday 28 November – Canberra Theatre
Tuesday 29 November – Canberra Theatre
Friday 2 December – Palais Theatre, Melbourne
Monday 5 December – Riverside Theatre, Perth
Tuesday 6 December – Riverside Theatre, Perth
Friday 9 December – BCEC Great Hall, Brisbane
Saturday 10 December – GCEC, Gold Coast
Monday 12 December – TRECC, Tamworth
Wednesday 14 December – Civic Theatre, Newcastle
Friday 16 December – Sydney Opera House
Saturday 17 December – Sydney Opera House